SW-300 AC Swing Gate Operator
Features a heavy duty torque limiter, huge solid aluminum rust free hub, an easy to install quick release arm and a heavy duty frame. SW-300AC can move gates that are up to 20 feet wide and 800 lbs. heavy.
AC operators come with the simplest and most dependable control board in the industry that's backwards compatible.  A powerful and durable motor that has been field tested for over 20 years.
For more information contact us or your local distributor.
SW-300 AC Swinger Specs
Download Brochure
Download Manual
2016 UL 325 & UL 991 Compliant
Warranty
Full 7 Year Residential, 5 Year Commercial
Motor
1/2 HP
Duty Cycle
Continuous Cycle
Power Options
120 VAC
Gear Box Ratio
60:1 Ratio
Cover
Rotationally Molded – Indestructible
Dimensions
W: 12" L: 17" H: 25.5"
Maximum Gate Length
20 Feet

Maximum Gate Weight
800 lbs

Gate Travel Speed
17 Seconds per 90 Opening
Operator Weight
110 lbs
Emergency Release Options
Power off Quick Release Arm
SW-300 AC Swing Gate Operator
MANUFACTURER'S LIMITED WARRANTY
The Warrantor warrants SL-45DC Gate Operator. ALL-O-MATIC INC warrants the gate opener for a period of five (5) years in residential installation to be free from defects in circuitry, motor, gear box and workmanship. This warranty applies from the date of purchase to the original owner.Warrantor will repair or, at its option, replace any device which it finds to require service. This device must be sent to the warrantor at the consumer's expense. The warrantor will return the repaired or replaced unit to the customer at the consumer's expense. Labor charges for dealer service or replacement are the responsibility of the owner. These warranties are in lieu of all other warranties either expressed or implied, and ALL-O-MATIC INC shall not be liable for consequential damage. All implied warranties of merchantability and or fitness for a particular purpose are hereby disclaimed and excluded. This limitation is not valid in jurisdictions which do not allow limitation of incidental or consequential damages or limitation of warranty periods. Caution in order to obtain this policy, please complete the registration card and send it by mail within 30 days of purchasing from ALL-O-MATIC INC. or your INSTALLER. If not registered only a one year warranty on all parts will be provided.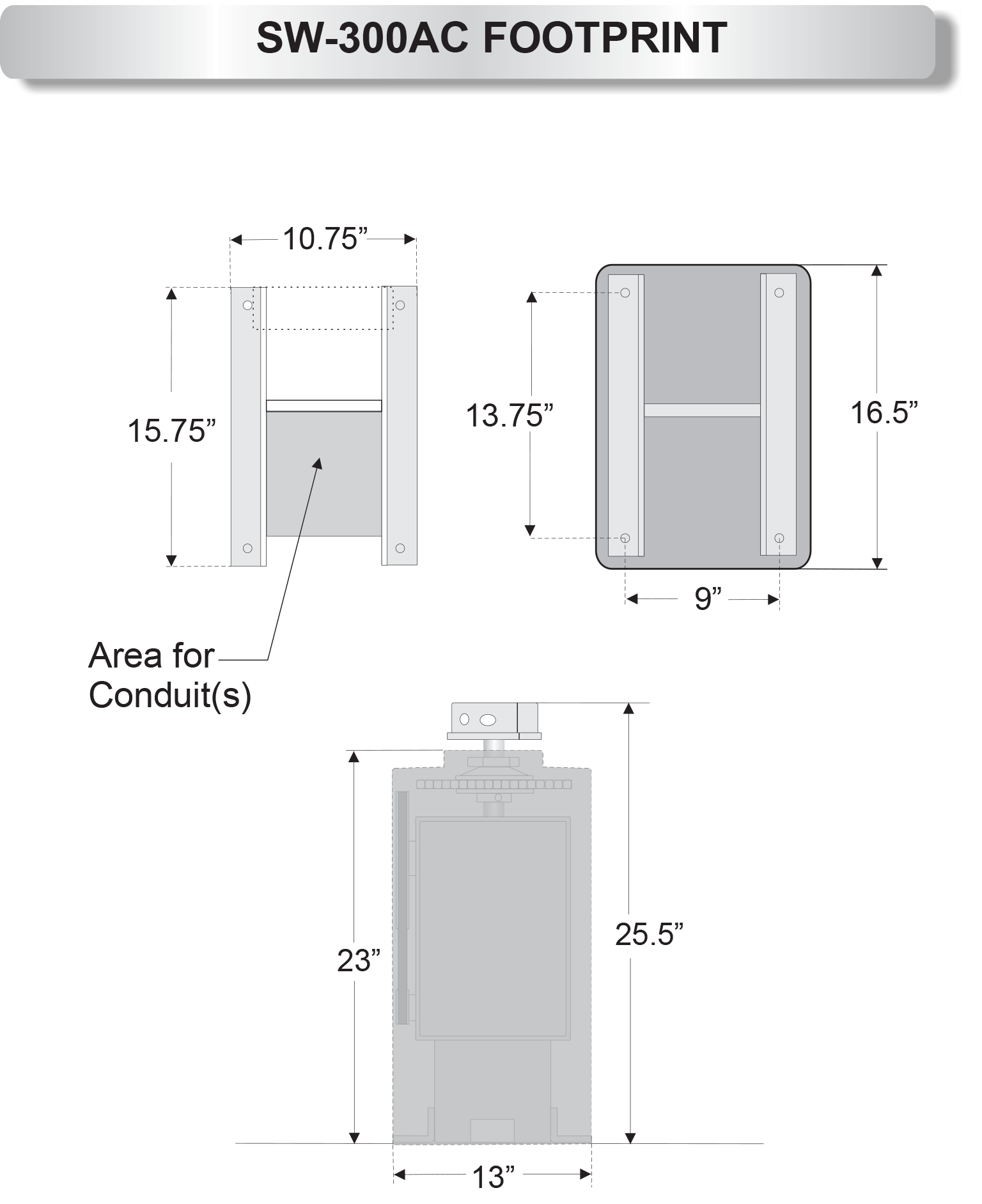 SW-300 AC Swinger Part Numbers
| LINE ITEM | PART NAME | PART NUMBER |
| --- | --- | --- |
| 1 | FRAME ONLY | SW-301FM |
| | GEAR BOX | NUMBER |
| 2 | GEAR BOX | GBX-300 |
| 3 | GEAR BOX PULLEY | PLY-8 |
| 4 | GEAR BOX DRIVE SPROCKET | 41B22X78 |
| | 1/2 HP DC MOTOR | NUMBER |
| 5 | 1/2 HP AC MOTOR | MTR-1050 |
| 6 | 1/2 HP AC MOTOR PULLEY | PLY-2 |
| 7 | 1/2 HP AC MOTOR DRIVE BELT | 4L-370 |
| 8 | 1/2 HP AC MOTOR WIRE HARNESS | MTR-H1050 |
| | CONTROL BOX | NUMBER |
| 9 | CONTROL BOX | CBX-301 |
| 10 | CONTROL BOX COVER | CBC-101 |
| 11 | CONTROL BOX AC CONTROL BOARD | ACPCB-UL |
| 12 | CONTROL BOX RESET BUTTON | COM-1004 |
| 13 | CONTROL BOX ALARM BUZZER | COM-1005 |
| 14 | CONTROL BOX ON/OFF POWER SWITCH | COM-1000 |
| 15 | CONTROL BOX 110 SWITCH OUTLET | COM-1001 |
| 16 | CONTROL BOX 14 PIN TERMINAL STRIP | COM-1002 |
| 17 | CONTROL BOX RADIO RECEIVER STRIP | COM-1003 |
| 18 | CONTROL BOX 4" JUMPER WIRE | COM-1014 |
| 19 | POWER SUPPLY HARNESS | PSH-301 |
| 20 | POWER SUPPLY OUTLET COVER | TN-680 |
| | LIMIT SWITCH ASSEMBLY | NUMBER |
| 21 | LIMIT SWITCH | COM-1007 |
| 22 | LIMIT COLLAR | COM-1012 |
| 23 | LIMIT SWITCH WIRE HARNESS | LSH-300 |
| | MISCELLANEOUS | NUMBER |
| 24 | EXTERIOR PLASTIC COVER | EPC-300 |
| 25 | EXTERIOR PLASTIC HUB COVER | EPC-S300 |
| 26 | SWINGER ACCESSORY SHELF | COM-1015 |
| | TORQUE LIMITER AND SHAFT ASSEMBLEY | NUMBER |
| 27 | DRIVE SHAFT | DST-301 |
| 28 | DRIVE SHAFT BEARING | BRG-205F |
| 29 | TORQUE LIMITER COLLAR W/NUT | TLC-300 |
| 30 | TORQUE LIMITER FRICTION DISC | TLD-300 |
| 31 | TORQUE LIMITER DISC WASHER | TLW-300 |
| 32 | TORQUE LIMITER PLATE | TLP-300 |
| 33 | TORQUE LIMITER SPROCKET | 40A54TX2 |
| 34 | TORQUE LIMITER CHAIN | 40NPX325 |
| | SWINGER RECTANGULAR ARM ASSEMBLY | NUMBER |
| 35 | SWINGER QUICK RELEASE ARM | QRA-300RR |
| 36 | SWINGER PRIMARY ARM | SPA-300RR |
| 37 | SWINGER SECONDARY ARM | SSA-300RR |
| 38 | SWINGER ARM GATE BRACKET | SGB-300RR |
| 39 | SWINGER ARM GATE BRACKET ATTACHMENT BAR | SAB-300RR |
| | SWINGER ROUND ARM ASSEMBLY | NUMBER |
| 40 | QUICK RELEASE ARM -PLATED | QRA-RD300 |
| 41 | SWINGER PRIMARY ARM | SPA-RD300 |
| 42 | SWINGER SECONDAR ARM | SSA-RD300 |
| 43 | SWINGER ARM CONNECTING KNUCKLE | SKN-RD300 |
| 44 | SWINGER ARM CONNECTING BUSHING | SAB-RD300 |
| 45 | SWINGER ARM GATE BRACKET | SGB-RD300 |
| 46 | SWINGER ARM GATE BRACKET KNUCKLE | SBK-RD300 |